Anyone else absolutely love the winter months?
Good, me too! Don't get me wrong I am all for a cocktail by the pool but nothing I love more than putting on a pair of boots, a chunky knit and getting the tights back out again. September until January are without a doubt my favourite months of the year, however the weather can literally change so much in the space of a few days, well a few hours it is Northern Ireland after all!
So I have popped up a few things that I think can carry you right through from 'sun is still out I can get away with this' right down to 'ok that is deffo my breath I can see when I breathe' as sometimes it is so hard to find a balance, and items you can get the most wear out off.
Here are my key pieces, enjoy!
A pair of black boots sees you right through, they go with shorter skirts and dresses in the summer months, as well as basically every single item during the winter months. I always opt for a pair of sock boots, just because I feel they are so flattering on bare legs and with tights, giving that seamless look... Chunky heels are a must tho, comfort people!
Who says florals are just for spring?
This style of midi dress can be worn so many different ways, making sure you get the most wear out of it as possible and creating different looks every time. Style it down like here with a pair of biker boots & leather jacket, throw a pair of trainers and denim jacket for those warmer days, killer heels and a waist belt for a night on the town and even tights, comfy coat and those chunky heeled boots! Endless combinations.
Leather trousers are becoming more and more popular, whether they are skin tight or that little bit looser, they are now becoming something almost everyone will have or want in their wardrobe over the next few months.
These two styles are my favourites, I love that they are both high waisted and both super flattering, something we all need! andddd such good prices.
Keeping with the leather theme, a leather jacket. Who doesn't own one of these? I have had so many over the years, falling in and out of love with them every single year and this year i'm back in love with them. There is nothing like the All saints one right? I know its a little pricey but it truly is an investment piece, and it is something that will never ever go out of fashion! There is 15% off for your first time ordering from All saints also- winnnning! (Here is a few other options tho!)
Everyone needs a new winter coat, only problem is that there are farrr too many beaut ones to choose between! I personally think you can never go wrong with white or tan. They are two colours that will go with everything you own, and it adds something other than black to the winter months!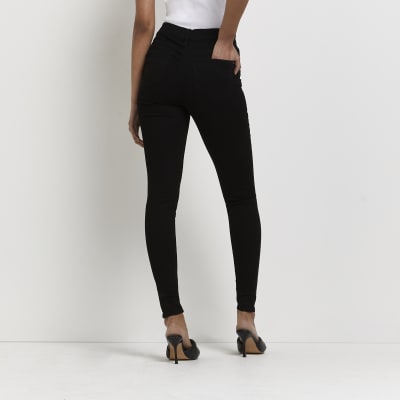 Again something everyone already owns, and always could do with another pair. Black skinny jeans, this is so personal I feel because I know how picky I am with jeans so I presume everyone else is the same. However if you in the market to get a new pair, 100% try these. They are my ride or dies, the River Island -Molly reformed jeggings. Tip- size down.
Finally some knitwear, something you will be able to pop on with almost everything in the next few months. Roll/polo necks are great; they keep you warm, hide all the sins, no tan is needed and you can stick them on under or over almost anything and they look great! The River Island ones are my fav again, they are so cheap and the quality is so so good! (two for £20)
Hope this helped a little coming into the colder months!
Thanks for reading, as always
Emma Jane x